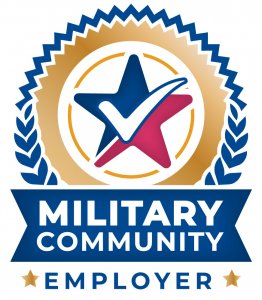 Proudly Employing the Military Community
The people in our Armed Forces are among the country's best, brightest, and most committed to service. Magellan Federal understands the sacrifices and commitment of military service members, and we are a natural fit for veterans and military spouses looking for careers where they can continue to serve.
Our team is led by individuals with huge empathy for and affiliation with our armed forces. Nearly one third of our workforce are veterans or have family members who have served. That's no accident – we've partnered with veteran and military spouse employment organizations for years to shape our team into what it is today.
"As a military spouse who relocates frequently, I am so grateful to have found an organization that values my experience and contributions to the military community."
– Teresa B., employee and military spouse
Hiring and Developing Military Talent
The veterans, military spouses, caregivers, and others in the community we bring onboard at Magellan Federal not only boast hard skills that complement and improve our capabilities, they come with an unmatched dedication to the mission of serving the military community. This dedication is why we make it a priority to actively employ veterans and their spouses. Even though you may have separated from the military, we have challenging new ways to serve. 
Hear from three of our military spouses as they talk about their experiences being part of the Magellan Federal team:
Don't see the job your looking for?
Contact our Recruiting Team to connect with our dedicated Veteran Recruiter, get notifications to keep in touch, and receive additional employment resources.
Join our team and partner with other great organizations that serve all aspects of the military community.
Magellan Federal is a registered d/b/a of Armed Forces Services Corporation and a wholly-owned subsidiary of Magellan Healthcare, Inc.