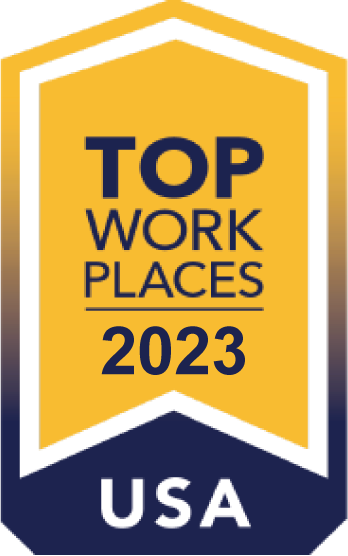 Voted 2023 Top Workplaces
Magellan Federal was awarded 'Top Workplaces 2023'! We are thrilled to have been awarded with this designation, as we take pride in creating a work environment that supports our employees and encourages them to grow in their careers and further our mission to serve those who serve our nation. View our Top Workplaces profile
Joining the Magellan Federal Team
Benefits
Magellan Federal offers a comprehensive benefits package, which includes a 401(k) savings plan, medical and dental insurance, professional development, short and long-term disability insurance, life insurance, legal benefits, and many more. 
Our Culture
We offer a fun and open team-based environment, that also requires a strong individual drive. Our values-based culture encourages growth & innovative ideas. 
A Diverse Environment
We value the diverse background of our employees and provide an environment where diversity thrives. We recognize the breadth of experiences, ideas and values that a diverse workforce generates and we are committed to providing equal opportunity to all. Our employees work at bases, installations, and federal facilities all over the world.  
Career Development
At Magellan Federal, we aim to match employee goals with business needs in support of workforce development initiatives. Our career development program includes enhancing each employee's job performance and enabling individuals to take advantage of future opportunities. We help our employees design their career paths and devise programs that help employees reach their goals.  
"I am very grateful to not only be a part of working with this team to serve the clients in this community but get to know them all personally. I have grown as a person and have been very blessed to have this leadership team."
–  Lyn Barger, Magellan Federal Employee
Our Equal Employment Opportunity Policy
Magellan Federal is an equal opportunity employer. We recruit, employ, train, compensate, and promote without regard to race, religion, creed, color, national origin, age, gender, sexual orientation, marital status, disability, veteran status, or any other basis protected by applicable federal, state or local law.  
Magellan Federal is dedicated to seeking all qualified applicants. If you require an accommodation to navigate or apply to a position on our website, please call 703-379-9311 or click below to request accommodations.