Grief Counseling
—Guidance for helping people process loss
By: Octavio Cruz
Within the fascinating experience that is life, change is a continual occurrence, and an example of ongoing change is that which is experienced through loss. Humans experience loss in many ways, commonly through the death of a loved one or the end of a relationship. A key component of loss is grief.
Grief is a personal process connecting the emotional, social, and physiological realms and is closely tied to overcoming the crisis that comes with loss. For some, grief may be a time involving self-acceptance and self-discovery, while for others, it may be a time of isolation and denial of reality. No matter how it is experienced, it is a journey of mental, emotional, and relational readjustment that may substantially alter a person's daily life.
Professional counseling can help those experiencing loss and grief identify internal and external resources available to them promotes empowerment, a sense of community, and encourages grieving in healthful ways. Below are tips to support those struggling with loss while also incorporating self-care practices.
Grief Guidance
Acknowledge grief is a personal experience and listen to the person without an agenda.
Honor the grief someone is experiencing while being prepared to give the person space.
Learn what spiritual practice or creative outlet allows the person to connect with their sense of meaning and purpose, then make recommendations accordingly. Not everyone will feel comfortable drawing or journaling.
Observe how the person is moving through the grieving process and refer as needed. Some may seek a spiritual approach, while others may benefit from a grief counselor if they require more specialized care.
Maintain self-awareness. Ask yourself, "How does dealing with someone grieving make me feel?" "Does it trigger any personal memories?" "To what extent can personal issues be distracting?"
Be respectful of the person's grieving and don't turn encounters into interrogation sessions. Through self-awareness one may realize addressing someone's grief can be anxiety provoking.
It is okay to respond with, "I don't know".
Grief counseling can trigger emotional reactions that may be new and uncomfortable. If this occurs, don't hesitate to seek support from a trusted person.
Grief Resources for Military Families
One very important component when addressing the process of loss with someone is that, similar to a crisis, the grieving individual may not have the frame of mind, the peace, or the support to address even the most essential basic needs. It may feel as if with the loss comes a loss of connection and where to look for help. Having an advocate who is attuned with the resources available within the military community can be a game changer. The Military & Family Life Counseling (MFLC) program is available to all service members and families for on-installation support with a number of life's challenges through free, short-term, confidential non-medical counseling. MFLC counselors can help bridge the gap between the grieving person or family and the different agencies that can provide resources to aid during times of despair. Start by contacting your installation's Military and Family Support Center for more information on the MFLC program. Reaching out for help and resources is an essential element in the process of healing and recovery from loss.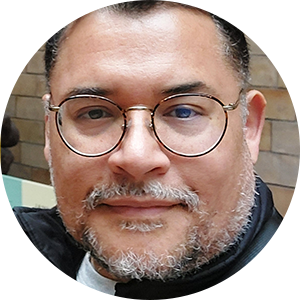 Octavio Cruz, M.S., LPC-S, currently works with children and youth populations as a Magellan Federal Military and Family Life Counselor (MFLC) in Italy. He has more than 20 years of experience balancing spirituality and emotional wellbeing as a chaplain within a hospital setting and as a professional counselor. He believes loss, grief, and bereavement are areas of intervention where there is much work to be done. With a background in psychology, clinical pastoral education, and behavioral health integration in primary care, he has been able to connect with processes that go beyond loss to the discovery of meaning and purpose. He is a husband and a father of three young men. With the recent death of his father, the subject of grief through his own experience has gained relevance in his life and that is why he chose to share this article.